Your Talent. Our Stage.
We Capture
the Spirit
of Now
Our
Campus
Programs
Are you ready to step out of your comfort zone and work with realworld experiences? Our campus programs are designed to help you build the foundation you need to learn, develop and grow into your next opportunity and gain valuable life-long skills. Whether you are just launching your professional career or are looking to challenge your current skills, PepsiCo is ready to help you make an impact within our community and on a global scale. our programs give you real-world challenges with real-world opportunities to shape trends and change the course of tomorrow.
First
Gen
Learn twice as much in half the time.
First Gen is PepsiCo's Internship Program that offers university students the opportunity to work on real-world projects which positively impact our community and environment on a global scale. Our program has a duration of 6 months until 2 years, depending on the country. From the moment you step foot into PepsiCo, you will be immersed into the dynamism of our cultural environment. You will have the responsibility to lead and execute a specific project that will influence PepsiCo's future.
Select your country and register:
Next
Gen
Develop your skills while you push your limits.
Next Gen is PepsiCo's Trainee Program. We look for recent graduates who are willing to learn about our business and prepare to be great leaders in the future. At Next Gen, we evaluate the profile of each candidate and how much he identifies with our values and culture. Those selected for the program work in a job rotation system, with the possibility of getting to know several areas within the company up close, in addition to having training, development and mentoring.
Select your country and register:
Summer
Gen
Grow your experience while you make an impact.
Our Summer Gen Internship Program helps proven performers become project leaders! For 10 weeks we invite you to put the power of our global resources behind your big ideas and learn to lead initiatives to create impactful results in our business. Get opportunities to tackle big challenges — and generate major exposure.
Select your country and register:
Student Stories
LP.SKU-27.HEADER
Lesly Salas
Mexico
"The first gen program was one of those experiences that added the most value to my university career, where I had the opportunity to develop challenging projects that pushed me to have extraordinary results through the coaching of an excellent team. The working environment, constant learning, and most of all, the people, are some of the many reasons why I love PepsiCo."
Santiago Volpe
Argentina
"My best day at PepsiCo was my first day because of all the excitement and enthusiasm it created for being my first job. from that day on, nothing was the same! Every day I go to work happy to be where I am. What I love most about working at PepsiCo is the excellent work environment that exists and the daily challenges related to my work. PepsiCo gave me the opportunity to work with excellent professionals from whom I learned a lot while developing in a very interesting company. "
Awards
Melhores Empresas em Cidadania Corporativa
Fortune's World
Ethisphere World´s
Ranking Revista Gestão RH
LinkedIn Top Attractors
Brazil Reputation Pulse
Universum Most Attractive Employers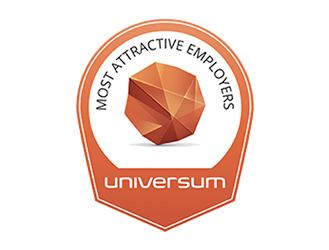 Mesa Brasil SESC